Vítězslava Kaprálová (1915 – 1940)
Compositions for violin and piano
Complete edition
ed. Timothy Cheek, Stephen Shipps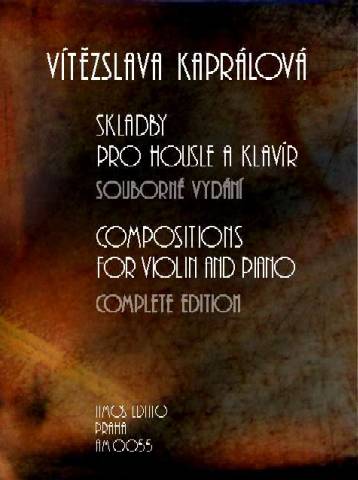 The edition includes three compositions: Legend, Burlesque, and Elegy. The Legend and the Burlesque (numbered op. 3/1 and op. 3/2) were both composed in 1932, during Kaprálová's studies at the Brno Conservatory; the Elegy was composed in the memory of Czech writer Karel Čapek in the spring of 1939. While the Burlesque was published as early as 1933, the Legend and the Elegy have never been published – until now. All three works are now being offered in a first ever complete edition – a project initiated and financially assisted by the Kapralova Society. The publication's editor is one of the foremost Kaprálová scholars, Dr. Timothy Cheek, of the University of Michigan School of Music; the violin part was edited by another member of the faculty, Dr. Stephen Shipps. Almost simultaneously with the print edition, all three works have also been recorded and are available on compact disc released by the largest independent US label, Koch Records.
Instrument: violin
Catalogue number: AM 0055 Price: 510 CZK
ISMN: 979-0-66057-053-1