Vítězslava Kaprálová (1915 – 1940)
January
Song on the poem by Vítězslav Nezval
for soprano (or tenor), flute, two violins, violoncello and piano
ed. Timothy Cheek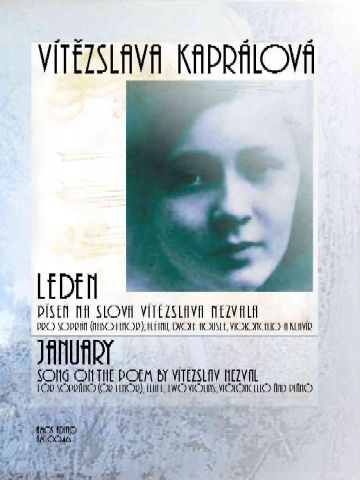 The surrealist poem Leden (January) from Nezval's poetry collection Zpáteční lístek (Return Ticket) was the inspiration behind one of the most remarkable Czech songs of the first half of the twentieth century. In Leden Kaprálová masterfully captured the unique atmosphere of Nezval's lyrics full of decadent imagery and odd melancholy. She further enhanced the haunting quality of this piece with unusual instrumentation: flute, two violins, violoncello, and piano. The composition is published here for the first time. Its historical, first edition has been made possible thanks to the encouragement and financial support of the Kapralova Society, an arts organization based in Toronto, Canada.
Instrument: voice
Catalogue number: AM 0046 Price: 230 CZK
ISMN: M-66057-044-9