Vítězslava Kaprálová (1915 – 1940)
Pieces from Childhood
ed. Věroslav Němec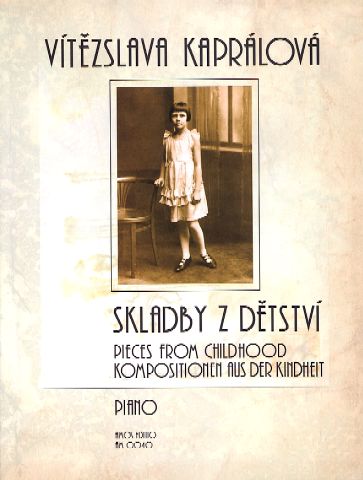 This is a first edition of eight piano compositions from Kaprálová's childhood, written by the composer between the age of nine and twelve. This collection of piano miniatures will be of an interest to musicians not only as a unique historical document but it will also impress them with its unquestionable quality. Besides children's miniatures, in which the little composer often utilizes tone-painting (In the Realm of Fables, The Harbour, War) we will also find in this collection compositions that are unusually profound at such a tender age (Setting Out on a Long Journey, Pondering, Longing, Valse triste, After the Battle on White Mountain). Their rich melodic and harmonic language and the depth of emotional expression point to unusual creative gifts of a young composer, her abundant fantasy, and her intelligence. The childhood compositions are not technically demanding and a few of them can be performed by young students as early as in their second grade.
Instrument: piano
Catalogue number: AM 0040 Price: 135 CZK
ISMN: M-66057-031-9